Finding the nearest Co-op Gas Bar, Food Store, Home Centre, Cardlock, or Agro Centre just got easier with the "Co-op CRS App" by CollegeMobile.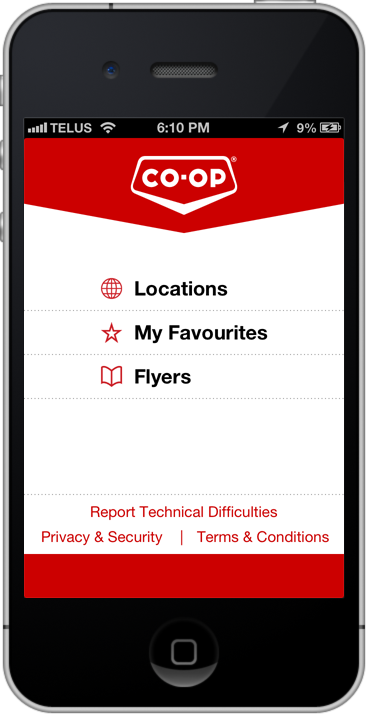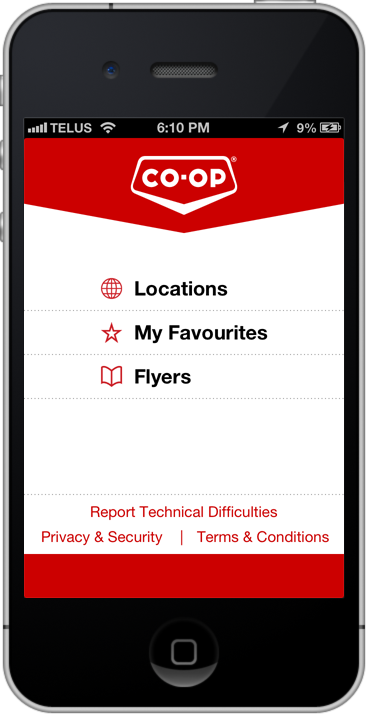 We were very excited to collaborate with Federated Co-operatives Limited (FCL) to enhance their renowned customer service by developing a simple and convenient smartphone app for their retailing system. CollegeMobile was introduced to Federated Co-operatives Limited by Affinity Credit Union, who has been very pleased with the high quality apps we have developed for them.
FCL wanted a mobile app that would help Co-op members and customers find locations as well as the information for those locations. Co-op offers several different services at their locations, such as Gas Bars, Food Stores, Home Centres, Card Locks, and Agro Centres. One or more of these services may be found at any location, making the data more complex than a typical locator because of the amount of data and the fact that these services sometimes have different hours. Our talented software developers took on the challenge, met the deadlines, and developed another custom mobile app that we are proud of – the "Co-op CRS App."
CollegeMobile collaborated with Federated Co-operatives Limited to develop the Co-op CRS App for Apple iOS, Android™ and Blackberry® smartphones. To learn more about the Co-op CRS App, visit our portfolio page at http://pushinteractions.com/application/co-op-crs-app/
The Co-op CRS App allows Co-op members and customers to:
Get directions to the nearest Co-op retail location
Choose between Co-op Gas Bars, Food Stores, Home Centres, Cardlocks, and Agro Centres
Access location information such as hours of operation, address, and contact info
Favourite Co-op locations for quick reference
Save notes with Co-op membership numbers or shopping lists
Link to online flyers for the particular location
Download the the Co-op CRS App on the Apple App Store, Google Play Store, or BlackBerry App World.