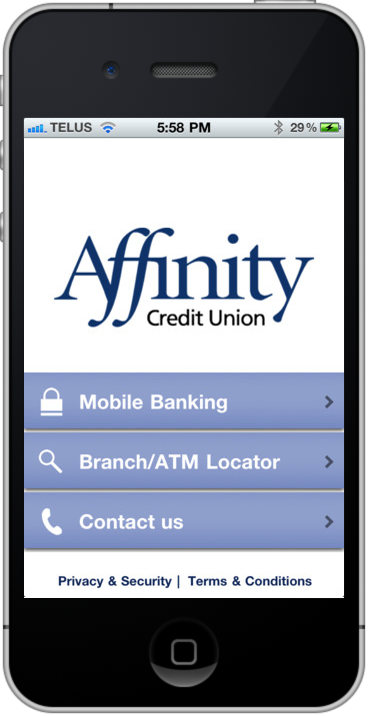 CollegeMobile is proud to announce the launch of Affinity Mobile, the official mobile banking app for Affinity Credit Union members. It was developed to provide clients with convenient access to their bank anywhere in the world. Affinity Mobile gives clients the ability to locate an Affinity Branch or ATM, find hours of operation, view contact info, transfer money, pay bills, and much more. Affinity Mobile is now available on iPhone, Android, and BlackBerry, and will soon be our first published Windows Phone 7 app!
The Affinity Mobile app allows you to:
* Locate the nearest Affinity Credit Union Branch, ATM, or Affinity Insurance Services Branch. View as:
* List of locations from nearest to farthest
* Map with GPS beacon and branch/ATM locations
* View branch details such as accepted card types, hours of operation, drive through, and contact info
* Navigate to Affinity Mobile Web to access personal bank accounts, transfer money, and pay bills
Time is money, so speed up your banking with the Affinity Mobile app.
Visit the official Affinity Mobile page for more information:
* iPhone: http://tinyurl.com/affinityiphone
* Android: https://www.pushinteractions.com/landing/affinity/
* BlackBerry: http://tinyurl.com/affinitybb
* Windows Phone: Coming soon!