Daniel is a Quality Assurance Engineer with Push. Here is Daniel's review on his favourite app:

Favourite Mobile App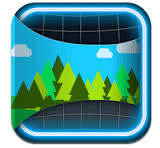 Available Platforms
What type of user do you think would enjoy this app?
This app is great for photographers, travelers, or anyone who wants to capture a scene better than they could with a typical picture
360 Panorama Features
This app was one of the first panorama apps out for the iPhone, before the feature got included in the standard camera app. This app goes a lot further than most panoramas though. It's made to capture and view entire 3d scenes. You stand in one place with your phone, and then slowly spin in a circle. The app paints in your surroundings as you move, and stitches new images into a giant picture that forms a bubble around you.

Favourite thing about 360 Panorama
After creating a 360 panorama, the app has a setting where you can view the scene using your phone's gyroscopes and compass. Instead of scrolling around the scene with swipes, you can look around by moving your phone. It feels like you have a window back to that moment. This feature even works in a web broswer if you decide to share the panorama with your friends
Here's a 360 panoramma I took in Oslo, Norway
Are there any improvements you would make on 360 Panorama?
The app hasn't been updated for a while. According to the AppStore, it's had it's latest update in December of 2012. It would be great if the app could get a flashy new update to keep up with the latest chenges in iOS, but it still works as well now as it did in 2012.