Push Interactions is an award-winning mobile app developer who have had prominent success in creating custom smartphone and tablet apps for iOS, Android, BlackBerry and Windows phones. Our vision as a company is to improve quality of life through quality technology for businesses and organizations across Canada and around the world. We are proud of our team of developers and we feel our work as a company is excellent. Through our efforts as a company, we are proud to accept Clutch's prestigious award in naming us one of the leading mobile app development companies in Canada for 2019.
Clutch, based in the heart of Washington DC, Clutch is a B2B ratings and reviews company committed to connecting businesses to services that help overcome their business hurdles. Clutch offers independent, quantitative analysis on leading B2B services. They are known for producing insightful reviews across thousands of different services ranging from IT to advertising and marketing. Their rankings are based on a unique methodology that stems from technical capabilities, market presence, and verified client reviews. Our Clutch profile has earned an average rating of 4.5 out of 5-stars!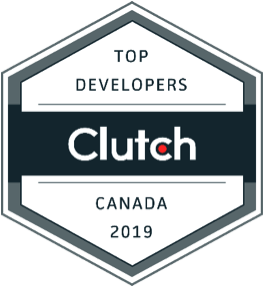 "[T]hey are a smaller company that has a personal interest in their projects." – Owner, Carta, Inc.
"They're always there to help if I have any questions." – Entrepreneur
We're glad that our reviews demonstrate our personal touch. We treat each client with optimal care and attention. These positive reviews have also allowed us to achieve success beyond Clutch's platform. On Clutch's sister-website The Manifest, we are featured as amongst the top app developers in Canada. The Manifest is a business news and how-to website that offers industry insights and other metrics to help businesses narrow their search for solutions for their business hurdles.
We're excited that our team gets to kickoff the early part of 2019 with this award. We couldn't have reached this level of success without the trust and support of our clients. We're looking forward to partnering with new businesses and collecting reviews to further build trust and transparency.