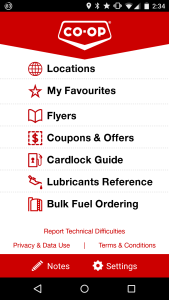 Co-op released an update to their mobile app which gives users the ability to browse, clip, and redeem Coupgon coupons in their mobile app. It's been a long-requested user feature, so we were very happy to add it to the app. We worked in partnership with the development team at Coupgon to integrate this feature seamlessly into the existing Co-op app. To start redeeming, you'll first need to download the latest update from Google Play or iTunes. Once you have downloaded the new version, go into Coupons & Offers on the main screen, then tap on Coupgon. You'll be asked to enter some demographic data so they can better serve you in the future, and then you'll get a tutorial to walk you through how to clip and redeem.
On the credit/debit card terminals at the Co-op stores, there is a QR code that you then need to scan with the app, after clicking Proceed.
And that's it! Once you use it once, you'll be using it every time you go back to the store.