CollegeMobile has taken a plunge into the world of BlackBerry 10 (no pun intended).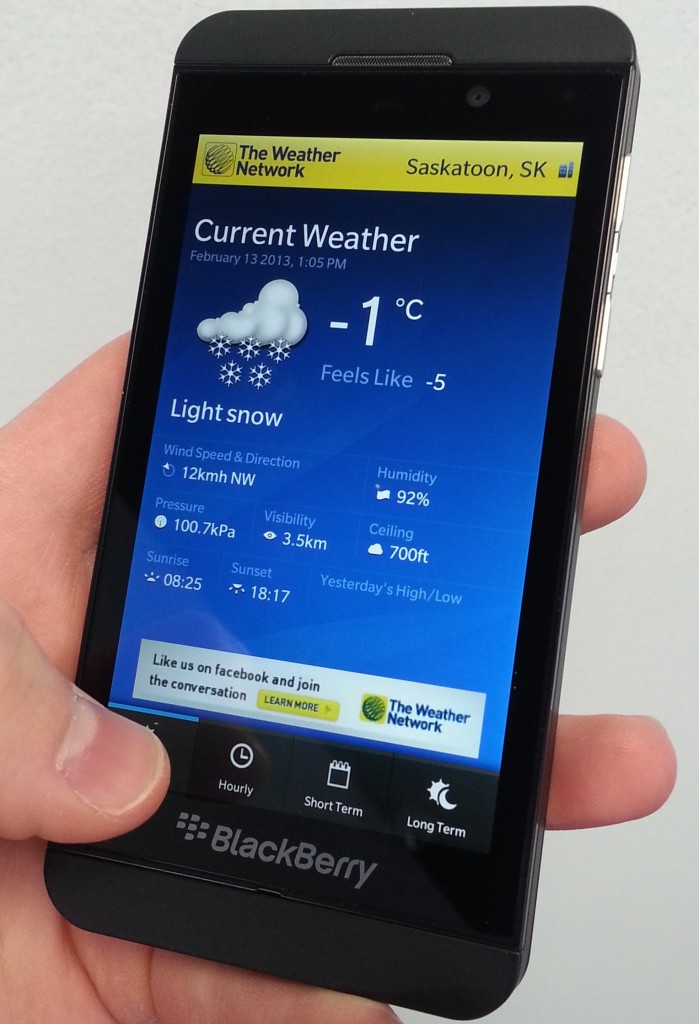 I've always been an Android guy, but I've been intrigued by the BlackBerry 10 platform. My Samsung Galaxy S II work phone had been the talk of the town at one point, but now I have a personal Samsung Galaxy S III, so we no longer need the past. What better opportunity than to own one of the most talked about devices this year – the BlackBerry Z10. I would like to tell you about my first impressions of the software.
The Apps
Just like any OS, some apps are excellent, some are average, and some are just horrible. The Weather Network has a much better UI than iOS or Android. Twitter is about the same, but seemingly much faster once it caches. Sadly, YouTube launches in a browser. Nonetheless, you don't really think about the traditional, 'old-school' BlackBerry when you see the quality of Angry Birds, theScore, or Twitter. It would be interesting to see some more BlackBerry-exclusive mobile applications.
The App Store
As you would expect, the BlackBerry World does not have nearly as many apps as iOS or Android, but do you fault them? I am pleasantly surprised by the number of very useful apps and am encouraged that there will be many more to come.
On a separate note, I found it difficult to navigate the BlackBerry World store. It took me a while to find the "Top Free Apps" section, and then it didn't show me enough top free apps! This is how I find 75 percent of my apps, so I would like to see more. In addition, you must drill down through several categories. You can't just view "Games" in general – you have to select what type of games. This can be pretty inconvenient sometimes.
The Gestures
This took some getting used to. Swipe up to see recent apps, swipe right to access the BlackBerry Hub, swipe down to access the menu, and swipe right in some apps to get the categories. I could see these all becoming natural after a few days. Unfortunately, there is no easy way to launch new apps – you must swipe up and then separately swipe right. When I naturally swipe diagonally from the side, sometimes the app will recognize it as an upward swipe, and the side bar will not open. These are all minor issues that may change with future updates.
Verdict
I give the current BlackBerry 10 software a 3.5 out of 5, and anticipate it becoming 4 out of 5. Although there is more work to be done by both BlackBerry and third-party mobile app developers, I enjoy the subtle uniqueness and impressive quality of software.
If you want me to try something for you or if you have any suggestions on how to fully take advantage of BlackBerry 10, please feel free to comment below.