Push Interactions, a leading software development company based in Saskatoon, is proud to announce its inclusion in the annual list of top software development companies in Canada for 2023, as recognized by Techreviewer.co. Moreover, the company holds an impressive position within the top 100 companies on the list.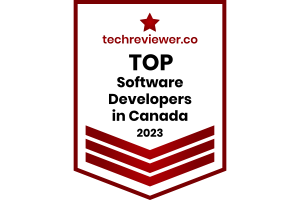 This prestigious accolade comes as a testament to the dedication, innovation, and talent within the Push Interactions team. The acknowledgment from Techreviewer.co, a recognized research and review platform, underlines Push Interactions' commitment to delivering top-tier software solutions that drive real results for their clients. Push Interactions has proven its expertise in crafting industry-leading applications, web solutions, and software that meet the growing demands of today's tech-driven market. The recognition by Techreviewer.co is reflective of the company's continual efforts to elevate its offerings and stay ahead of industry trends.
Being listed among Canada's top software development companies cements Push Interactions' place as a leader in the software development field. This acknowledgement further strengthens the company's resolve to continue innovating and providing exceptional service to its clients.
The list compiled by Techreviewer ranks companies based on a broad range of criteria, including the companies' experience, client reviews, market presence, and overall ability to deliver quality solutions. The inclusion of Push Interactions in this esteemed list emphasizes the high standards that the company has consistently upheld.
Moving forward, Push Interactions remains dedicated to embracing cutting-edge technologies and innovative approaches to deliver the best possible results to its clients. This recognition reaffirms the company's commitment to being a top-tier software development company, not only in Canada but on a global scale.
Push Interactions extends its gratitude to its hardworking team, loyal customers, and Techreviewer.co for this honour. As we continue to strive towards unparalleled excellence in software development, this recognition serves as a beacon of success that fuels our dedication to our craft.