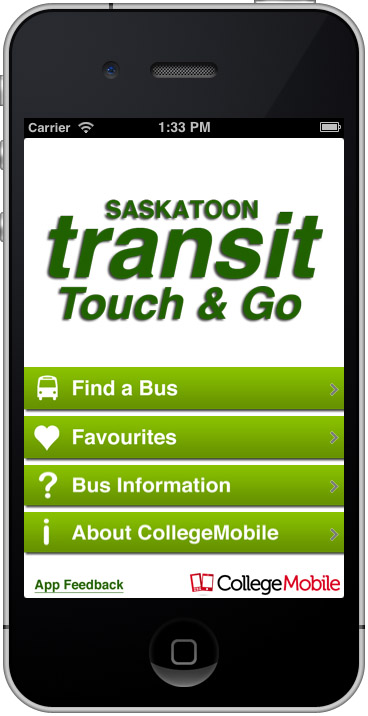 Riding the bus has never been easier with this the Saskatoon Transit Touch & Go app from Push Interactions!
Push Interactions is proud to announce the launch of their FREE Transit app for Saskatoon!
Use Saskatoon Touch & Go to:
* Locate bus stops nearest to you and select your desired pickup location
* Obtain predictions of upcoming departure times for your selected stop
* Set reminders to ensure you don't miss your bus
* View and follow the route to your destination
* Favourite the bus stops that you regularly use
* View information on fares and more
Whether you're at work, home, or the mall, catch your next bus with Saskatoon Transit Touch & Go.
"After a discussion with the City of Saskatoon we realized the need for a transit app for the city." said our CEO, Chad Jones.  "We are one of the few groups that do this, and thought this would be a valuable thing we could put together and give to the city.  Party of what we want to do is give back to the community and this is our way of giving back."
We are proud to also have support from the city.  Kevin Peacock, City of Saskatoon CIO said " It's all going to improve the experience for people using transit.  What I like about it is you can choose your favourite route, which is the only route you use and not worry about anything else. "
To download your FREE Saskatoon Transit Touch and Go iPhone app visit http://itunes.apple.com/ca/app/id564993383?mt=8&s=143455