Servus Credit Union is the third largest credit union in Canada and the largest credit union in Alberta, serving nearly 390,000 members from over 100 locations.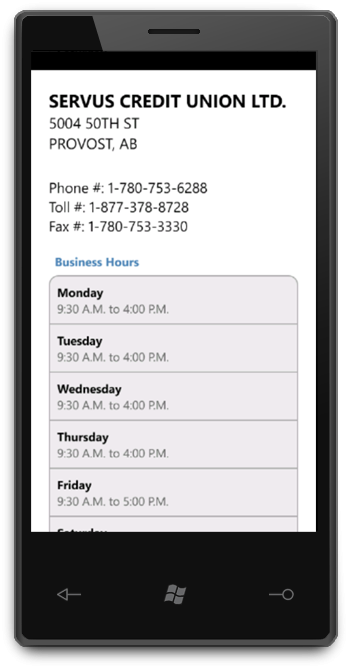 We are very proud to announce the launch of Servus Credit Union, the custom-made mobile application for Servus Credit Union members.
We collaborated with Servus to create a mobile app that allows members to:
* Get directions to the nearest Servus Credit Union Branch or ATM
* Determine branch details such as accepted card types, hours of operation, and contact info
Servus provided us with the branch & ATM details very quickly, which helped speed up development. From start to finish, the app took about one week per platform to complete!
Since debuting on the app stores, Servus has become one of the top downloaded credit union mobile apps!
Try it for free on iPhone, Android, BlackBerry, or Windows Phone.