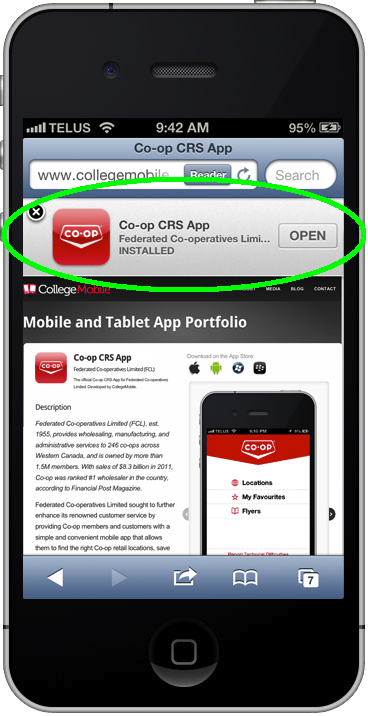 One week ago, I explained the "Top 6 Ways to Promote Your Mobile App." The sixth method suggested, "Utilize Smart App Banners on iOS 6 to direct mobile users from your full site to your app." Haven't heard of Smart App Banners before? Good, because then you will find this interesting (I hope)!
Smart App Banners by Apple are a standardized banner that promotes your iOS app from your website when a user accesses it via the Safari browser on iOS 6 devices. They are a simple and effective way of increasing your app's download numbers by converting website visits into app downloads.
When an iPhone, iPad, or iPod Touch with iOS 6 accesses the specified webpage, an unobtrusive, professional banner drops down from the top of the screen. This banner prompts the user to check out your mobile app. Don't worry y'all, these banners aren't anything like those hideous ads that you see in the free Android version of Angry Birds. The consistent look and feel combined with a small visual footprint ensures that the banner is generally accepted by iOS 6 users.
Smart App Banners can be easily implemented on your website using a simple meta tag (line of code) and we can help you with that. Here's an example of the Smart App Banner code for the Co-op CRS App:
<meta name="apple-itunes-app" content="app-id=573048102″>
Smart App Banners should only be used on the website pages where the mobile app is relevant to what they are looking at. Here are some good examples:
1) App promo pages on your website
2) App press releases on your website
3) Website pages that contain content relevant to the app: Products, Resources, Services
Try not to use the banner on any pages that has absolutely nothing to do with your app. Putting the Smart App Banners in the right places will ensure they remain unobtrusive and interesting.
By taking the above suggestions into consideration, you can effectively turn website visits via iOS 6 devices into app downloads. You won't see a radical download rate increase in one day, but Smart App Banners will certainly help you over time.
Leave a comment or contact us to learn more about Smart App Banners by Apple.