At Push we have developed apps for companies across North America. But we wanted to highlight some of the mobile app development we have done for clients in Ontario. Specifically apps for clients in Toronto. Below is a list featuring some of this recent work:
Credit Union Central of Canada
Known informally as Canadian Central, Credit Union Central of Canada has offices in Toronto and Ottawa. We developed an app that spans all the major smartphone platforms iPhone, Android, Windows Phone, BlackBerry and BlackBerry 10. The app locates for users all Credit Union Branches and ATMs across Canada regardless of association and the data is updated frequently so it is always current. The goal with the app was to inform Credit Union members of all the possibilities offered in terms of Credit Union branches and Credit Union accessible ATMs since many members don't know they can go to many ATMs and Branches across Canada and not pay surcharges because they are all part of the same network. The app contains not just Branches and ATMs but a detailed breakdown of the services each and every one offers.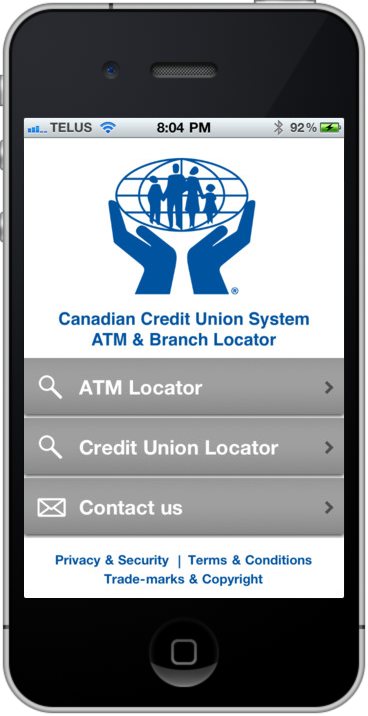 Carleton University
We built an iPhone and Android App for Carleton University located in Ottawa, Ontario. The app was built for Carleton University students. The iPhone and Android app allows students to login and check their classes, grades, exam schedule, unpaid fees and campus card balance as well as online events and news. Most of these systems had a completely different backend systems and required completely different integration throughout the entire app (e.g. Moodle, Banner, CSGold, etc.). we maintained a single sign-in, making it seamless for the student to transition between completely different systems without having to login a second time or be delayed in accessing information.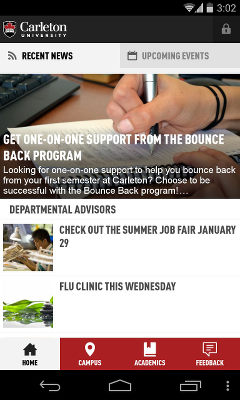 Fixmo
Fixmo, a company based out of Toronto, is one we worked on with on their SafeZone product. The SafeZone product was very high security and relied on our expertise in this area. The product worked on iPhone and Android and the product's purpose was to create a shell around an enterprise app and not allow attackers in. Fixmo technology was used by the Department of Defense and many other institutions. We would like to talk a little more about the work we did for Fixmo but it is covered by a Non Disclosure Agreement. Fixmo has since been acquired by Good Technology for an undisclosed amount as CEO Rick Segal said in an interview relating to the acquisition: "They recognized Canadian quality, they recognized Canadian developers, they recognized that this is a cost efficient and very good place to grow talent". I would like to say I agree with Rick's assessment.
Ding Free – Central 1 Credit Union
Central 1 has offices in Vancouver and Toronto, providing services to member credit unions in British Columbia and Ontario. The work on Ding Free was contracted by Central 1 Credit Union but the resulting work is actually promoted by Credit Unions across the country. Ding Free allows a user to select their Credit Union and then afterwards it shows all "Ding Free" (i.e. without surcharge) ATMs across Canada they have access to. This app was meant to highlight the enormous network of ATMs available Canada-wide that users can access which is a network larger than most banks. Promoted on YouTube and other channels the Ding Free app is a mainstay in the Top Free Apps in the financial section of the App Store.
Those are just a few of the applications we have built for companies based in Toronto and Ottawa. The above apps and all of the other apps we have developed shows our strength in building mobile applications for all platforms. It has been an enjoyable ride working on mobile applications for different companies based in Toronto and Ottawa and we look forward to working with other great clients in this area in the future.