When I was in my undergrad for Marketing, I would often hear the phrase "What is your Social Media Strategy?". Now back in mid 2000's "social media" was just coming into existence and platforms like Facebook and Twitter were starting to become popular and widely adopted. It also seemed like individuals were quick to sign up for a Facebook or Twitter account and businesses slowly trailed behind a few months of even years later. I once had a conversation with a fellow marketing colleague about "What the heck does "Social Media Strategy" mean?!?!" We were puzzled at how to use this new and very powerful tool to market the companies we were working at. Slowly but surely we learned the power of the platforms and how they could be used to represent and market the companies. Now about 5 years later I am feeling a sense of deja vu when I now hear the similar phrase of: "What is your MOBILE strategy?". Again it seems like users have been very quick to adopt apps and expecting that companies have apps just like they would have a website or a Facebook page.
In its very basic form having a mobile strategy is a way to interact with your customers through mobile devices, just as a social media strategy is a way to connect with customers through Facebook, Twitter, etc. One of the more common ways of interacting with your customers through their mobile devices is through developing a native mobile application. There are a number of powerful ways we can use a native mobile application to engage customers or even potential customers. I will outline these methods further below.
Another common way of interacting with your customers is through a mobile optimized website which allows your users to view your site easily and conveniently from their mobile devices. This often means you will have a website design for your large site on the web and then a nicely laid out design for your mobile users, as there is nothing worse than trying to view a website when it is not optimized for your phone! Many of our clients like to have their mobile website integrated into the native mobile apps that we build as well.
Native Mobile Applications
Here are a few reasons why developing a native app is very powerful for businesses and organizations:
1. Exclusive Functionality
Native apps can utilize hardware on the phone: GPS, and multi-touch capabilities. As a result, native apps allow for some of the most useful features that are not often available on the web. Native apps can also send text or video messages, modify phone content, read/write contacts, and more. This also enhances the app with potential features such as sharing and saving content, syncing data with contacts, etc. Native apps can also use push notifications, which notify the user about specific events of interest, such as alerts and reminders. It is a great way of getting the user's attention when the app is not actively open.
2. Fast Operation
Native apps operate faster and often have smoother navigation. This is because they:
1) Require less time for content to load; some is stored on the device rather than all on the web
* Designed to meet development standards and user expectations for each platform. Native apps are screened for quality before being allowed on the respective app stores, whereas web apps are not screened
2) Allow for essential animations and graphics that enhance the user experience
3. Intuitive Design
Native apps are developed to meet the end users' design expectations of each platform and are formatted to fit various screens. Meeting these expectations ensures that the apps are more intuitive, and easier to navigate.
4. Limited Internet Required
Content can be cached or stored on the app so that the user can access it without an Internet connection. This is great if you have customers in remote areas or employees that need access to materials when they are offline.
5.Speedy Platform Updates
Once a new platform update is released, our developers have access to guides that ensure they are updated on the latest features. This means users will get new features, sooner than web apps, without any bugs.
6. Mobile Coupons
Another great way to interact with your customers is through offering coupons in your mobile application. Paper coupons and flyers have been around for decades but have a low redemption rate. We were surprised to learn that on mobile devices they have a much higher redemption rate! The convenience of having a coupon right on your device is undeniable and this option is also great for companies who are conscientious of being "green". One of our clients, Federated Co-operatives, have had great success with launching their coupons through their native mobile application.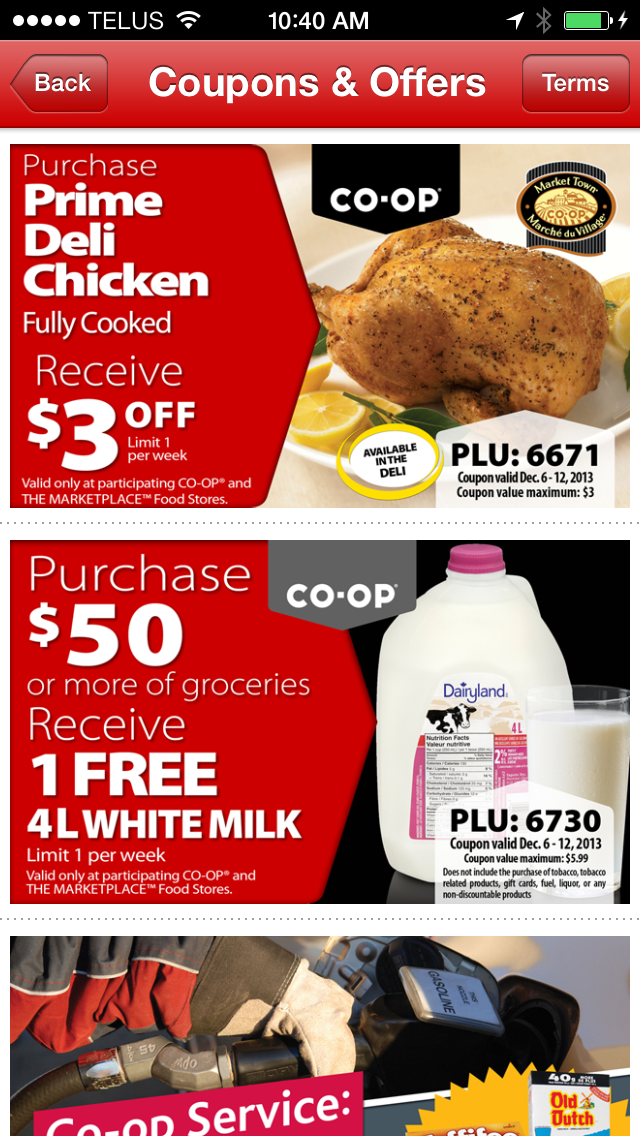 7. Location Based Services
One of the really useful features these mobile devices have is the ability to utilize the GPS within the device. By users sharing their location retailers are able to push coupons, advertisements and flyers to their customers through their mobile devices. We are also able to use location based services to help users find places such as these apps we built for Affinity Credit Union, Co-op, Flaman, Ding Free and Credit Union Central of Canada.
8. Mobile Advertising
With users spending an increasing amount of time on their mobile devices, it is worth looking into the possibility of getting creative with mobile marketing. Short and effective advertising can be used to grab users attention and call for their action.
Hopefully this post will get you thinking about your Mobile Strategy and how native mobile apps can play a big part of that initiative. If you would like to learn more about a customized mobile app for your company or organization, don't hesitate to contact me at 1-800-298-7081.